It is fun playing this kind of game. This made us think, think, think and think. And it is fun too to see pals out there playing one by one. Fun knowing the meaning deep inside their name. Mom said my middle name is Junior. Goofy Junior Chong, my full name. Ok, lets start it.

Joy, the joy that I could bring to anyone who comes to know me.

Ultimate, I'm of course an ultimate lover, ultimate player, ultimate joker, ultimate in everything!!!

Naughty, yah, I'm naughty and mischevious. I can turned the living room upside down at times. I bite off her favourite sandals. Being naughty is real fun!!!!

Intelligient, this is for sure. Dogs are intelligient. Everyone of us is, right? This needn't to describe much.

Optimistic, I love to be happy, I love to be optimistic and made people around me happy. Isn't that nice?

Real, yes, I'm real. I don't like to hide. I am who I am. When I'm happy, I show it, when I'm down, you'll know it, when I'm angry, don't come near.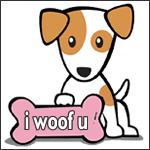 glitter-graphics.com